C12 — Saturday
C12
Rue du Marché Aux Herbes 116, 1000 Bruxelles, Belgique
Saturday 15 October
23.00—07.00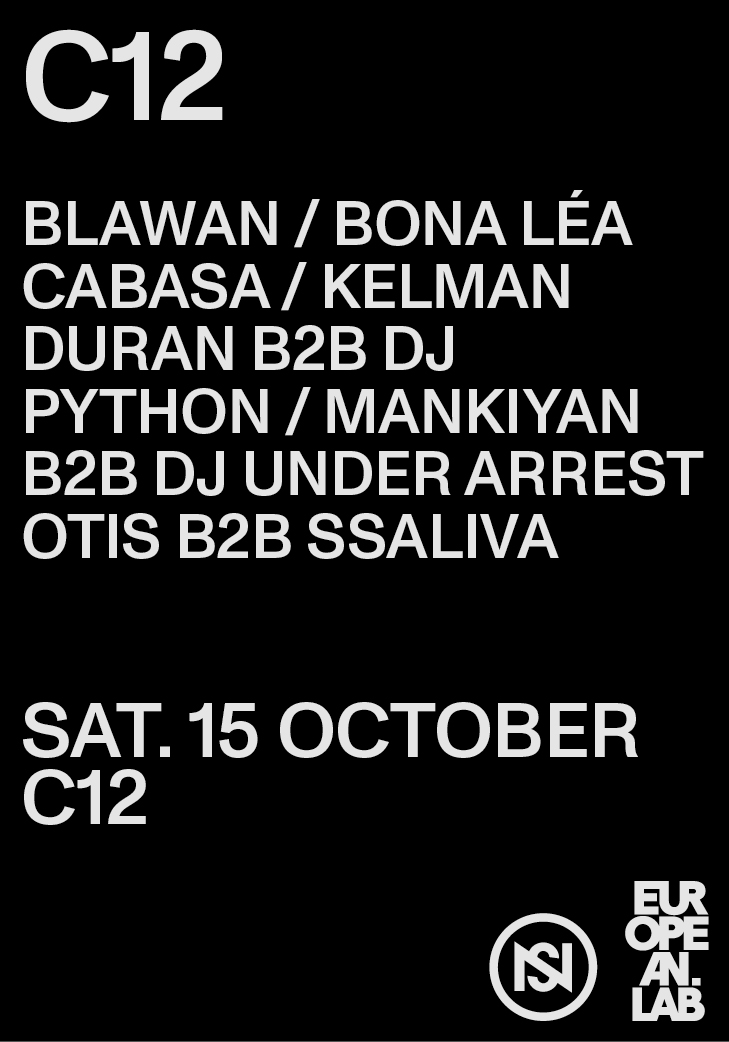 C12 is considered one of the major clubs on the European scene. Located in the heart of Brussels, it is nestled in the depths of the Galerie Horta next to the Grand Place and the Central Station. C12, and next to it the intimate C11, is a place where freedom, diversity, creativity and alternative culture are protected from the restrictive and normative outside world. It is a place where the passion for art and music in all its forms unites all identities. For the 4th consecutive year, Nuits sonores is taking over the two spaces of the club for two nights of the most innovative Brussels and international artists. 
Line-up
It's common to blast dancefloors into oblivion within the rigid confines of the four-to-the-floor, but Belgium-born DJ Cabasa approaches club music almost like solving a Rubik's cube. Discount his music as cerebral at your own peril, however: his tribalistic productions prompt as much impulsive movement as anything, making heads spin in search of where the floor begins and the ceiling ends. When Cabasa runs the show, you could probably discover the fourth dimension by accident.
Between his early days as a drummer in English post-punk bands and his latest release on XL Recordings, Blawan has had several careers — with perhaps the common thread being his inclinations for polyrhythm and atypical rhythms which have never left him. Since his arrival in Berlin in the mid-2010s, the English producer has not ceased to prove his importance on the industrial techno scene, with the creation of his label Ternesc — on which the vast majority of his recent production has been released — and his turn towards live and analogue music, marked notably by the releases of Wet Will Always Dry and more recently Woke Up Right Handed on XL Recordings.
It has been clear to anyone in the Belgian underground scene: Mankiyan is a true gem and on a steady rise as an excellent selector. Emerging from a desire to fill a void in nightlife, she has been able to seek out, continuously evolve and refine her own style in a couple of years time. The result is a bass-and rhythm-heavy sound with enough margin to experiment with grimey dancehall guilty pleasures, hinting at the internet culture she grew up with. In short, she's pushing a sound that's addictively mysterious and mysteriously intoxicating.
DJ Under Arrest is a serious dig-girl from oldschool to new underground fresh mint. According to her, club music is constantly changing, it is a breeding ground for hybridization; DJ under arrest has one leitmotif; with a maximum of diversity and a surprising coherence never to freeze in a genre. Influenced by industrial dub and avant-garde noise music, she oscillates between the left-field techno, the UK early hardcore jungle techno music and the slightly ravy electro breakbeat. gender fluid raver dance!
Fierce, fiery and full of flavour, Bona Léa is a Belgian-Cameroonian dj and co-founder of the Brussels-based collective Bloom Hill. She instantly pricks the ears of her audiences with her eclectic selections and is always looking for unique sonorities. She effortlessly shows off her versatility as she embraces a variety of melodies and rhythms with her unbothered attitude. Her musical influences range from afro rhythms, percussions, broken rhythmics and electric bassy sounds.
The first is the founder of the Brussels label Slagwerk, with a penchant for the avant-garde of contemporary and experimental music, disrupting genres and resisting both the overly intellectual and the trivial. The second is an audiovisual artist who, after having passed through alternative hip hop and dance, draws ethereal and melancholic soundscapes in his productions. Both of them reunited, Otis and Ssaliva promise a mixture of genres and textures, minus the conventions, plus the club energy.
If Dominican producer Kelman Duran and Dj Python have a common ground, it is in reggaeton, but also in a common approach to music: both driven by an attraction for the mixing of genres, they have respectively laid the foundations of deconstructed reggaeton on the one hand and deep reggaeton on the other. Already reunited in the studio for an unprecedented collaboration within the Sangre Nueva project alongside Dj Florentino, who resulted in the the brilliant Goteo EP, it is the booth of the boiling C12 that will unite them again during their Brussels visit.