C12 — Friday
C12
Rue du Marché Aux Herbes 116, 1000 Bruxelles, Belgique
Friday 14 October
23.00—06.00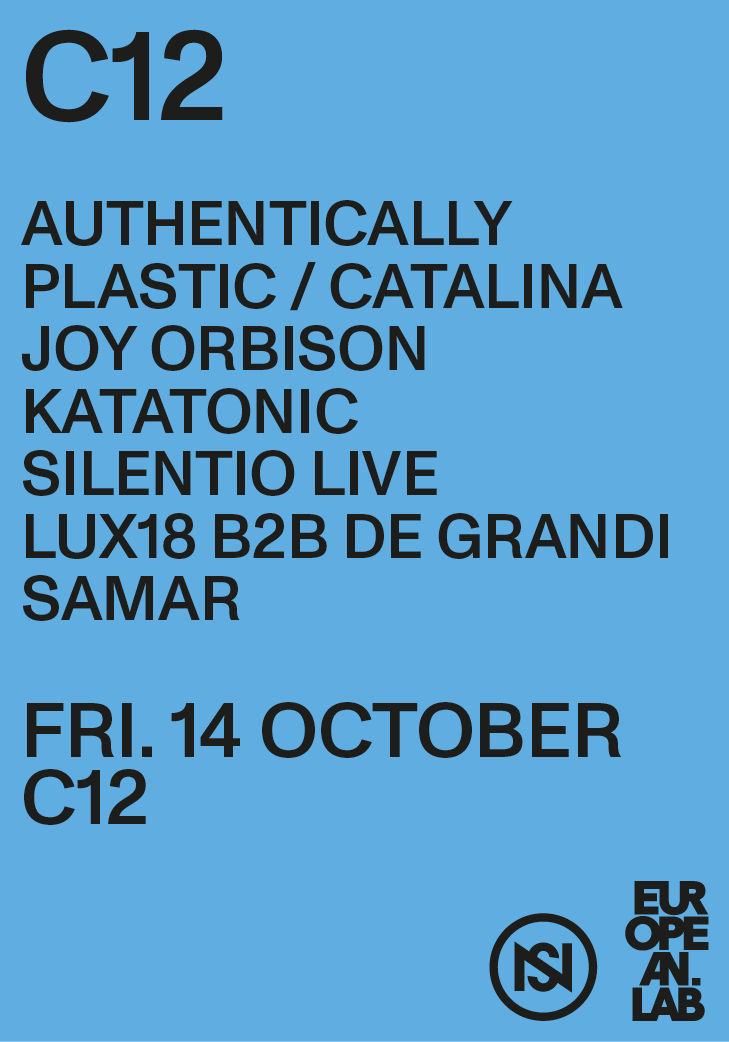 C12 is considered one of the major clubs on the European scene. Located in the heart of Brussels, it is nestled in the depths of the Galerie Horta next to the Grand Place and the Central Station. C12, and next to it the intimate C11, is a place where freedom, diversity, creativity and alternative culture are protected from the restrictive and normative outside world. It is a place where the passion for art and music in all its forms unites all identities. For the 4th consecutive year, Nuits sonores is taking over the two spaces of the club for two nights of the most innovative Brussels and international artists. 
Line-up
Born in Romania, raised in Brussels and now living in London, Catalina's curiosity has never lost its intensity. The dj mixes musical genres, and her sets reflect the different cultural influences she has inherited. Across the Channel, she has worked behind the decks of XOYO or Printworks, while she has recently been seen at Horst or Listen Festival in Belgium.
If we had to remember only one precursor within the post-dubstep scene that has been raging for several years in London and the UK, it would have to be Joy Orbison. A virtuoso dj since the age of 13, Peter O'Grady spent the 2000s absorbing the whole of British electronic culture, from UK garage to jungle via grime and dubstep, to eventually digest it into a new genre.
After having released single after single for more than a decade, 2021 saw the release of his first ever (yes, that's right) album "still slipping vol.1" that came out as a full circle between bass, house and garage, an intimate output and a new step in the career of someone who was already one of the most influential producers out there on the British electronic scene.
From Paris to Brussels, two upward trajectories and a formidable recipe: no, not that of La Teknoz (although…), but a magic potion based on bass music, experimental, deconstructed club and trap which took the form of a split EP released in April by High Digital. Need a refill in a hurry? So are we.
23:00—02:30 Samar
Samar grew up in Tunisia and is now based in Brussels. Throughout her mixes, she expresses her transnational hybrid identity while experimenting with deconstructed beats and atypical tones. Be ready for her set at C12: Samar will sure take you on an electronic transcendental journey.
Mariachiara Troianiello, the Milan-based sound artist behind the moniker Katatonic Silentio, works at the crossroads of electronic music, performing arts and sound studies. Both as a live performer and an independent researcher, she seeks to bridge different spheres and approaches to sonic production. She released Prisoner Of The Self, her first LP, on Bristol NormCore in 2020, followed by the Tabula Rasa EP on Ilian Tape the following year. Both are intensity-driven works, made of tense atmospheres, and highly unpredictable: beware, a storm is coming up.
Ugandan queer performer, DJ and producer, Authentically Plastic breaks down music codes both dark and playful, while mastering a very diverse musical palette such as Kwaito, Gqom, acid and techno, not to mention the electronic rhythms of Northern Uganda.
After her early days as a dj at secret queer raves, she is playing for the first time at the famous Nyege Nyege festival in 2019. Authentically Plastic is behind ANTI-MASS, a bi-monthly club night in Kampala that prioritises female, and queer, artists and as the name suggests, refuses to fit the mould. ANTIMASS attracts a diverse and dedicated crowd, and aims to be a propulsive space for sonic and cultural experimentation.