Nuits sonores invites Not Your Techno
Reset
8 — 10 RUE DE LIGNE. BRUSSELS
Sunday 16 October
14:00 - 22:00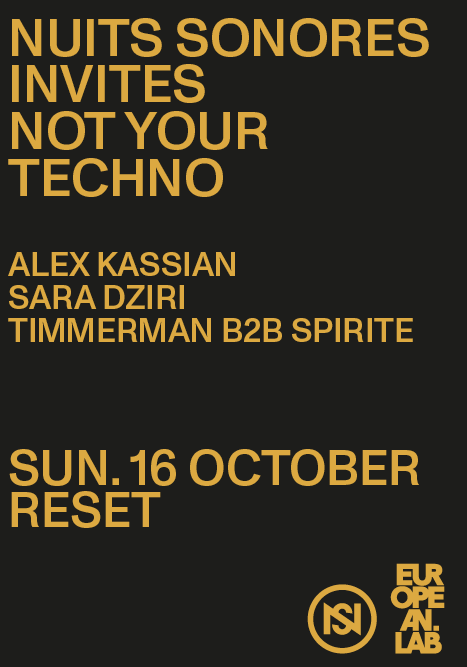 Nuits sonores & European Lab Brussels teams up with Belgian collectives, venues and cultural actors to present a series of cartes blanches: expect diverse programmes built around audio conferences, talks, performances and dj sets — all hosted at Reset.
𝝶𝝄Ե 𝞤𝗼ᵘᖇ 𝞃𝒆𝗰ᑋ𝓝๐ is a party series, community and platform that puts forward diverse and upcoming talent in electronic music, with a focus on female-identifying, queer and POC artists. On the dancefloor and beyond, their goal is to create a space for people to be themselves, feel safe and share their passion for music.
Line-up
Get ready for a high-energy session as two Not Your Techno residents are taking over the booth. Timmerman has been steadily cutting his teeth in Belgian underground nightlife since 2015, walking the lines between all things house music. Spirite is one of those artists that is on a never-ending quest for new productions and lost gems to add to her repertoire, using them to bring her audience carefully crafted trips. Between the two of them, an equally carefully crafted recipe that will bring each one of you on a surprising and thrilling journey.
Alex Kassian is a producer, DJ and artist from Kyoto, now based in Berlin, where he splits his days equally between making music and astral projection. Alex's sound is sophisticated and precise ; it's also lush and organic, cinematic and uplifting, bursting with optimism and energy, informed by spontaneity and improvisation and specifically designed to promote the kind of out-of-body experiences demanded by discerning ravers across the universe. In addition to having released his tracks on a number of labels (including Pinchy & Friends and Utopia Records), he is also one half of Opal Sunn together with Hiroaki OBA.
DJ and producer Sara Dziri is a versatile artist who keeps adding strings to her bow. Her DJ sets and productions stand for surprising, rhythmically complex house and techno, with hybridity and melancholy as central themes in her music and overall artistic work. On stage, Sara uses music as more than a means of expression; it is her way of building bridges between people and making them feel like they belong. She released her debut album, Close to Home, on Optimo Music in 2022 and is one of the co-founders of Not Your Techno, a platform and party collective dedicated to bringing more diversity to the Belgian underground scene.