Nuits sonores invites Meakusma x Matomah
Reset
8 — 10 RUE DE LIGNE. BRUSSELS
Friday 14 October
19:00 - 02:00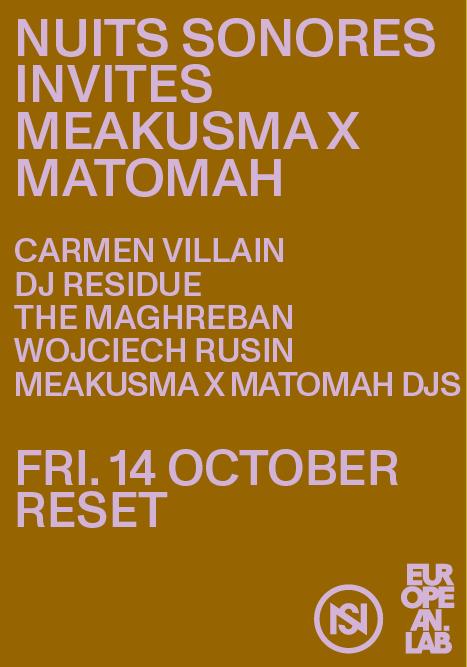 Nuits sonores & European Lab Brussels teams up with Belgian collectives, venues and cultural actors to present a series of cartes blanches: expect diverse programmes built around audio conferences, talks, performances and dj sets — all hosted at Reset. Long-time collaborators, Meakusma and Matomah are renowned for their endless support to exciting, experimental, adventurous and unique musical scenes. Their collaboration promises to offer cutting-edge concerts and club nights.
Line-up
Wojciech Rusin is a Polish-born audiovisual artist based in London. He draws inspiration from alchemical and gnostic texts, early renaissance choral music and Eastern European mythologies. He released The Funnel LP on Akashic Records in April 2019, and Syphon on AD 93 on February 2022. He designs and makes 3D-printed reed instruments, reworking ancient designs with contemporary 3D modeling technologies. His music has been featured on BBC Four and he has worked for The National Theatre, The Southbank Centre and National Theatre Wales.
Norwegian-Mexican artist and producer Carmen Villain makes atmospheric music made up of tapestries of field-recordings, acoustic instruments such as flute, clarinet, piano, and electronics, culminating in her own distinctive sound combining elements of fourth world, dub and ambient.
Through an experimental approach of production and composition, Villain creates an abstract soundscape rich in detail, permeated with beautiful harmonies and melodies. Through a number of releases for labels such as Smalltown Supersound, Geographic North and Longform Editions, she has established herself as a distinctive name on her music scene as well as with the critics.
Since he started the project in 2013, UK DJ and producer The Maghreban has cut a niche for clever, forceful dance music, fueled by mischievous sample play and inspired by his background in hip hop and jungle. Having released music under various names on Eglo, Black Acre, Versatile, R&S and his own Zoot Records, his 12" releases are aimed straight at the dancefloor pulling in inspirations from UK rave, acid house, African music and disco. His most recent LP Connection sees him tie together musical strands from his Arabic heritage along with jazz and techno to form something truly unique and cohesive.
An avid record collector and digger, his ability to feed all these influences into his wide-angled selections pushes the dance floor in a multitude of directions.
00:30—02:30 Meakusma x Matomah djs!