Nuits sonores invites Les Garages Numériques
Reset
8 — 10 RUE DE LIGNE. BRUSSELS
Thursday 13 October
18:00 - 23:00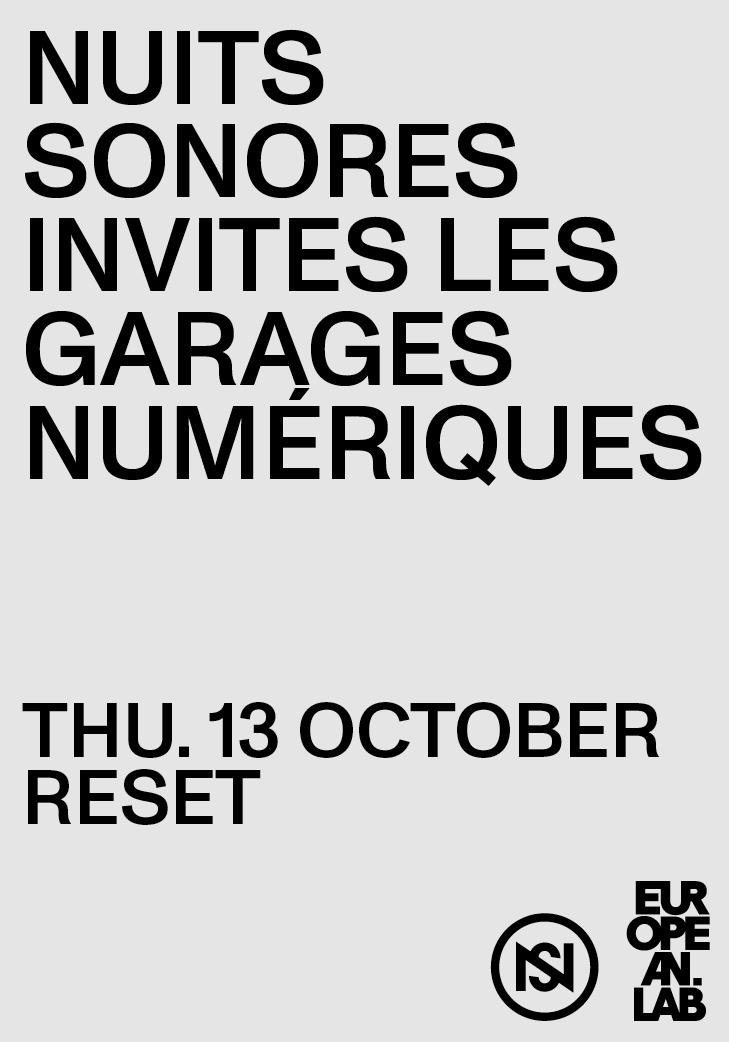 Nuits sonores & European Lab Brussels teams up with Belgian collectives, venues and cultural actors to present a series of cartes blanches: expect diverse programmes built around audio conferences, talks, performances and dj sets — all hosted at Reset.
Located at the crossroads of culture, art and music, Les Garages Numériques places great emphasis on the diversity and richness of its content. It features digital and contemporary installations, audiovisual performances, conferences, professional meetings, electronic music and the production of artistic works. The festival has the particularity of showing a double face, that of the day and that of the night. Unique in its kind, it manages to immerse museum and digital culture in the heart of electronic music.
Line-up
The Kyiv-based, temporarily displaced producer and rave hero Koloah significantly impacted the Ukrainian electronic scene. For more than a decade, his musical path has taken him through a cross-section of underground, famous clubs and parties such as Closer, Схема, ∄, Tresor, Berghain, and more. "Serenity" is a creative response to the tragedy of the Ukrainian nation. It's a diaristic story of leaving home, mourning, searching for meaning. With this project, Koloah pursues the idea of building awareness about Ukrainian culture and the ongoing war. He is currently touring Europe, presenting the album as an independent live project across musical venues and cultural institutions.
Hailing from Oaxaca, Mexico and currently based in Brussels, Vica Pacheco crafts a rich sound world that comes alive in surprising manifold turns. Her debut record Symplegmata (out on KRAAK) transposes a continuous exploration of unearthed sound narratives that, together, allow for a fully-fleshed mythology to unfurl. Pacheco synthesizes field recordings and manipulated vocals in order to weld unique micro-sculptures that convey environments as contrasting as they are complementary. She pursues her work on mutations and the energies that are released from new forms of life on Fibre-Fusion, her second record released in 2021 on wabi-sabi tapes.
Stella Ahn aka Amazondotcom is a music producer and multi-disciplinary artist based in Los Angeles. Interested in collapsing genre, meaning, and musical expectations, she uses intuition and free-form to build structure, rhythms, and sounds. As a music artist she has notably performed at Boiler Room, Red Bull Music Academy and Mutek MX. She has also exhibited videos and installations at the Palais De Tokyo, Haus der Kulturen der Welt and AC Institute as well as festivals including Curta Cinema and Lima Independiente. She currently runs the label SUBREAL with collaborator Siete Catorce.