Nuits sonores invites HE4RTBROKEN x Club Paradiso x Isengard
Reset
8 — 10 RUE DE LIGNE. BRUSSELS
Saturday 15 October
14:00 - 22:00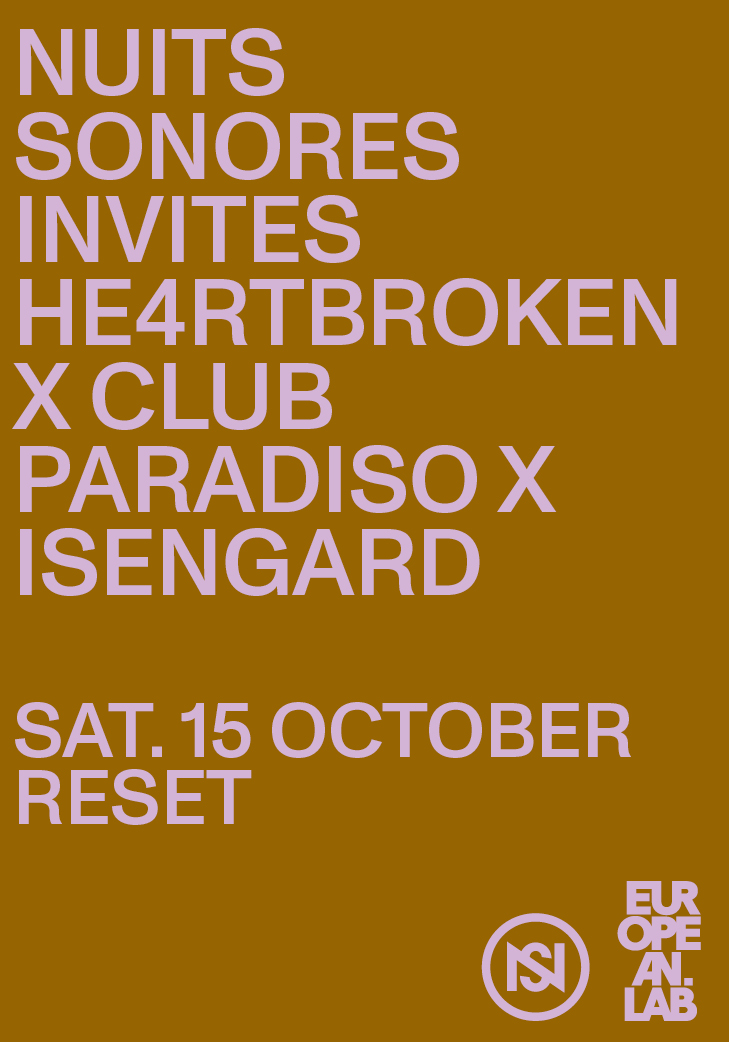 Nuits sonores & European Lab Brussels teams up with Belgian collectives, venues and cultural actors to present a series of cartes blanches: expect diverse programmes built around audio conferences, talks, performances and dj sets — all hosted at Reset. A Brussels triptych is coming your way: the highly emotional club nights HE4RTBROKEN, the label and club nights organisers Club Paradiso and the multidisciplinary art collective Isengard join forces for a shared event at Reset.
Music line-up
Co-founder of the Brussels label and collective Isengard, vinessett is a DJ and a digger (he has probably already asked you a .wav by dm). He collects day by day a nice amount of energetic and disruptive songs/snippets, often difficult to mix. vinessett tries to disturb the crowd attention when he goes deejay. You never know what's next, but it's probably an absurd banger. Different eras and regions are invoked for this mess, from futuristic-sounding dnb 2022 to EDM-ish Guaracha to post-Y2K British grime to French DMV to... He has too many to play, so he aims to create a multicolored bomb that could mess the synapses of the crowd.
HE4RTBROKEN is a Belgian collective bringing unapologetically emotional music into the club. Focusing on feelings and reinvention rather than on a certain musical genre, they want to offer a safe haven to the lone souls longing for a dance floor to cry on and a communal cathartic experience. Promoting nights in Brussels since 2015, they have brought artists like Total Freedom, Oklou, Sega Bodega, Why Be, Mobilegirl, Toxe, Mechatok, Tzusing, Malibu, SKY H1, Lolina, Klein, John T. Gast, Oli XL, Triad God, Genome 6.66Mbp and Organ Tapes. Their team of resident djs include founders Liyo and Steff, and nevrland, the duo project of producers Munix and ssaliva. Together, they also host a monthly show on NTS Radio.
luca_borsato721 is the founder and head of celestial rave label Club Paradiso. His mixes see him confront dancefloor demons and commune with nocturnal angels — expect tranced-out sets animated by breakcored bliss and alive with deep, ambient yearning. The Brussels-based DJ creates dense, propulsive narratives that judder and sigh, drawing on a sonic palette both contrasting and cohesive. Brutality and rapture coalesce as one, unifying a vast and vivid spectrum of emotion, genre and tempo. Enlightened ecstasy awaits.
Born in Canada and based in Paris, CECILIA is a multimedia artist. She works primarily with music, developing an experimental sound signature that blends cinematic influences with more intimate notes: her songs, telling stories of love and loss, mobilise voice in all its forms, from singing to quoting and reciting.
The project "Among the Limestones" led by Tristan Bründler, Sylvain Gerboud and Loïc Le Hécho is an experimental and collaborative proposal. Its initial form is an animated film, which stages the wandering of a character in an animated world with destructured architecture. The work then integrates different mediums and formats, which together create a meeting point between drawing, music and 3D.
21:00—22:00 estoc
Ready to be introduced to estoc's world? Then her first full length solo project, Serenity, is probably the best place for you to start: you can expect a deep dive in pounding techno, framed by two ambient pieces that (barely) allow you enough time to catch your breath before taking the plunge. This dancefloor-focused debut delves into ideas and themes surrounding submission and the bliss found in relinquishing control.
Artworks
14:00—22:00 On-site artworks by
Gaspard Hers,
Chloe Arrouy,
Arnaud Eubelen,
Hélène Padoux and Tristan Gac.
Talk
14:00—15:00 Victor Dermenghem
This programme will feature a talk with Victor Dermenghem: Is the future of electronic music being written far from the clubs? The revival of ambient, the transformation of the DJ/producer into an artist-author, the growing importance of live performance, the exploration of the idea of music as a care or as an avatar of our affects, deep listening... The imaginations of the electronic avant-garde, as well as the modalities of partying, sharing and listening, have been greatly renewed in recent years, gradually breaking with the legacy of the club culture of the 2010s and its idea of the dancefloor as a place of resistance and subversion in favour of new spaces, real or symbolic.
A sociologist by training, music journalist and independent researcher, Victor Dermenghem's work focuses on the history and politics of club culture, hip hop and so-called "internet" music. He regularly collaborates with specialised media such as Trax, Audimat or Rinse France.