In.Out.sider — Thursday
LaVallée
Rue Adolphe Lavallée 39, 1080 Brussel, Belgique
Thursday 13 October
18.00—22.30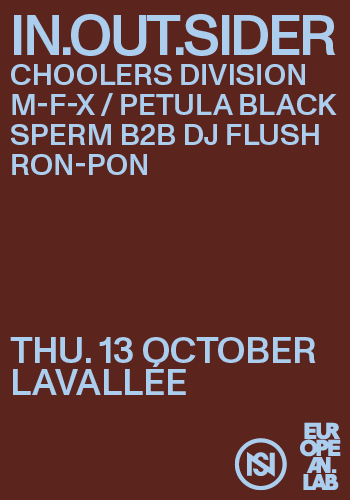 As part of Nuits sonores & European Lab Brussels, LaVallée presents a new programme, In.Out.sider, in collaboration with others European social and cultural actors: Killekill (Germany), Urban Boat (France) & Arty Farty Brussels (Belgium).
The In.Out.sider project aims to raise the profile of people with disabilities and their cultural initiatives, to encourage their autonomy and their active participation in cultural and artistic life. This inclusive programme includes live concerts and dj sets — with a focus on electronic music — and a reflexive part with workshops, talks and lectures.
Line-up
If you've not heard of them (yet), Dj Flush is the man behind the music label Killekill and Krake Festival Berlin, and Petula Black Sperm is the creative mind behind Urban Boat and uncountable other projects. This is the first time these two men play together and no-one knows if this has not possibly prevented several locations from being demolished: be ready for a dub-metal-ambient-disco set!
Revealed in Marseille, between the streets of La Friche de la Belle de Mai and l'Embobineuse, Choolers Division offer a twisted and incandescent electro hip hop with a multitude of captivating and offbeat sound levels. A sort of crazy machine, out of control, producing a dizzying mix of musical genres, in continuous surge during each of their lives.
A raw duo with Vegaian accents, RON-PON break new ground in a minimalist and grandiloquent improvised rock land, where synthesizers combine with electric guitars, drums, drum machines and vocals in a whirlwind of lyricism. RON-PON will surprise you with their astonishing universe ".
21:30—22:30 M-F-X
An interdisciplinary artist who is a musician, writer and radio producer, M-F-X turns everything that passes through his fingers into music - whether it's a hoover, a cordless screwdriver, the spokes of a wheel or a shoe. Associated with several techno, experimental and punk projects (among them, The Nest, Tannhäuser Sterben & das Tod, Von Spar, Phoebe Killdeer), his field of action is more on the side of sonic residues and backgrounds, and his production is inevitably unconventional.