In.Out.sider — Saturday
LaVallée
Rue Adolphe Lavallée 39, 1080 Brussel, Belgique
Saturday 15 October
19:00 - 01:00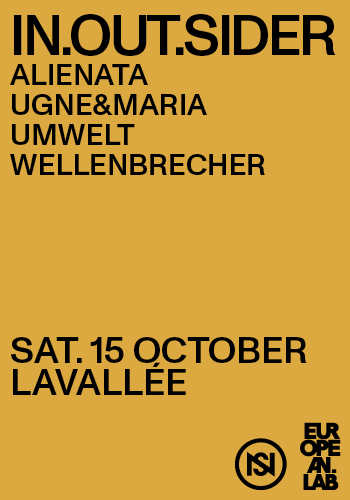 As part of Nuits sonores & European Lab Brussels, LaVallée presents a new programme, In.Out.sider, in collaboration with others European social and cultural actors: Killekill (Germany), Urban Boat (France) & Arty Farty Brussels (Belgium).
The In.Out.sider project aims to raise the profile of people with disabilities and their cultural initiatives, to encourage their autonomy and their active participation in cultural and artistic life. This inclusive programme includes live concerts and dj sets — with a focus on electronic music — and a reflexive part with workshops, talks and lectures.
Line-up
Originally from Lithuania, Marija Rasa Kudabaitė and Ugnė Vyliaudaitė are now based in Brussels, from where they distil a production characterised by a skilful weaving of samples, field recording, house beats and Ugnė's violin. They have been in residence at Les Ateliers Claus, host a monthly show on Kiosk Radio and are featured on the next V/A of Gems Under The Horizon, a sub-label of Basic Moves, due out in July 2022.
Wellenbrecher is an inclusive band project consisting of Werner Soyeaux aka Bläck Dävil, Uwe Locati aka Dj Locati, Dave Senan aka Senator and Hanni from German punk band Pisse. Their live shows are made up numerous drum machines and synths, resulting in experimental techno that is at once danceable, unpredictable and even theatrical.
Spain-born and Berlin-based Alienata describes herself as a sound obsessive, whose sets cover a sonic palette combining all the more obscure facets of electro, techno, acid and dub. Having become a reference on the German and European scenes, she is the founder of the Discos Atónicos label and host of the Nova Express show on Lyl Radio.
An underground producer with his roots in rave music, Umwelt has built a reputation for himself without ever feeling the need to court celebrity or follow the latest musical trends. Instead, for 20 years, the Lyon native has simply been following his own instincts. Counting on his trusty analogue machines and deeply immersed in a parallel universe that seems as underground as it is infinite, he has founded labels such as Flesh, Shelter, Fundata and Rave or Die (with released from Helena Hauff), in addition to and presenting Ravoluson on Lyl Radio. Umwelt lives to create. For him, producing music is not just a desire. It's a need.