In.Out.sider — Friday
LaVallée
Rue Adolphe Lavallée 39, 1080 Brussel, Belgique
Friday 14 October
16:00 - 01:00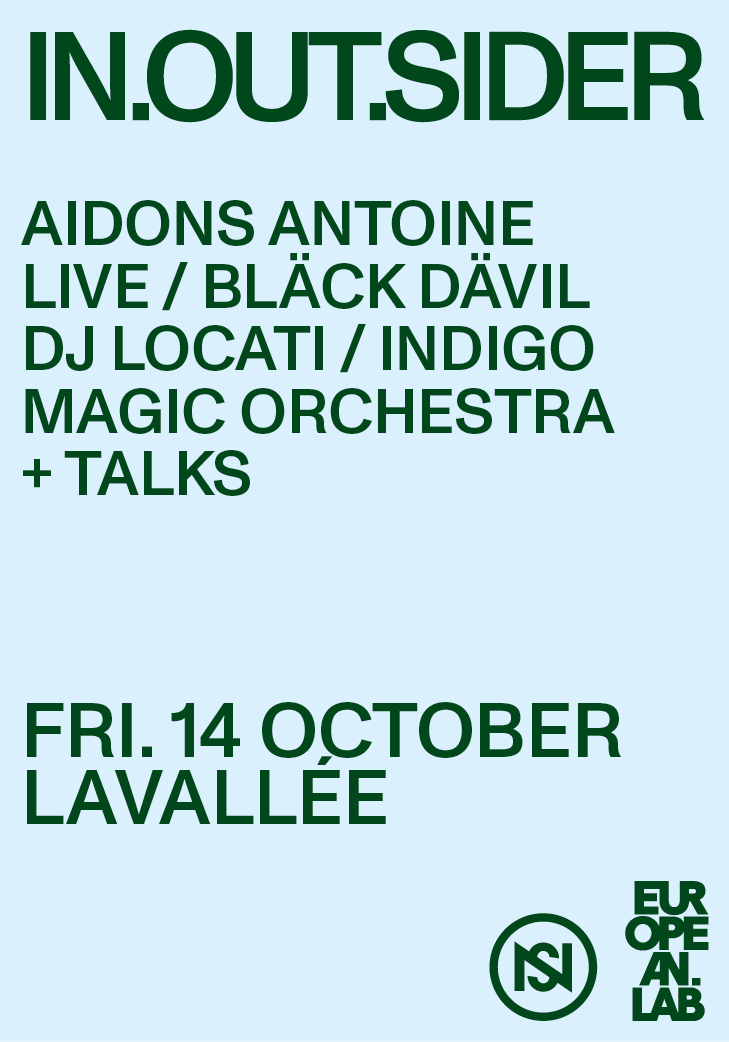 As part of Nuits sonores & European Lab Brussels, LaVallée presents a new programme, In.Out.sider, in collaboration with others European social and cultural actors: Killekill (Germany), Urban Boat (France) & Arty Farty Brussels (Belgium).
The In.Out.sider project aims to raise the profile of people with disabilities and their cultural initiatives, to encourage their autonomy and their active participation in cultural and artistic life. This inclusive programme includes live concerts and dj sets — with a focus on electronic music — and a reflexive part with workshops, talks and lectures.
Line-up
16:00—16:30 A conversation with Charlotte Puiseux (in French)
Charlotte Puiseux is a doctor of philosophy, a member of the handifeminist collective Les Dévalideuses and of the non-for-profit Handiparentalité, and an author and activist on disability, feminism, sexuality and gender issues. She published a book entitled "De chair et de fer, Vivre et lutter dans une société validiste" (La Découverte), in which she retraces her history of violence and discrimination and deciphers the ideological system that supports them: validism. This meeting will be an opportunity to better understand the sociological and philosophical interweaving of issues related to disability, from an intersectional perspective.
17:00—18:30
Music and disabilities: what tools to support artists?
Who gets to define who is in, who is out — who is an insider and an outsider? How do we include those who are excluded by the majority? Within a cultural and musical sector that wants to be more and more inclusive, the issue of disabilities is still very little taken into consideration, especially by music venues, programmers... Often ill-informed, the electronic and contemporary music scenes remain massively exclusive for these artists. However, many initiatives already exist: networks, technologies, platforms, professional guides, etc. So, how can we take hold of the topic and act? In a hyperconnected society, the speakers will explain how human and technological interfaces allow for a better representation of artists with disabilities. The floor will be given to the artists concerned, from Brussels and elsewhere, as well as to the English network Attitude is everything, an expert in this sector for 20 years.
With: Rich Legate (Attitude is everything, UK), Rona Geffen (artist, ISR), Antoine Leroy (Ateliers Indigo, BE), Indigo Magic Orchestra (artists), moderation: Nicolas Alsteen (journalist, BE).
Werner, aka Bläck Dävil, discovered his love for buzzing bass and fast rhythms in the late 1990s. Since then, he's been scouring Berlin's record shops for samples he can cut up, manipulate and destroy. From folk, hard tech, gabber, hip-hop, metal, punk or rap, he creates his own sound universe: eclectic and danceable, experimental and colourful. Since 2018, he has been part of the Ick mach Welle project and has started to perform live - where he can be found behind a drum machine, a synthesizer or on the mic.
Experienced club-goer, passionate about raves and synthetisers, Dj Locati has an instinct for building up tension, choosing the right tracks at the right time, and everything that can take his audience to the end of the night. Not only a dj, he is also part of Wellenbrecher, an inclusive band project under the Ick Mach Welle umbrella.
Brussels-based Aidons Antoine is a musician, a potter, and the mastermind behind Le Pacifique Records. All of this might not be related if he didn't make his own instruments — including the ocarinas and flutes that accompany his live shows. Heard on Kiosk Radio or Lyl Radio, glimpsed on Meakusma, you should hang around LaVallée to find the enigmatic musician and his instruments.
Ateliers Indigo is a non-profit that accompanies artists in their professional development, both in visual and audiovisual arts. Indigo Magic Orchestra unites several diverse artists and acts as an extension to the workshop.
00:00—01:00 Aidons Antoine (dj set)