Extra!
Wednesday 12 October
18:00 - 23:00
Extra! is the collaborative heartbeat of Nuits sonores & European Lab Brussels! By inviting cultural and artistic activists and local actors to bring their projects to life in the most unusual and unexpected corners of the city, Extra! reinvents everyday locations and becomes an event in itself.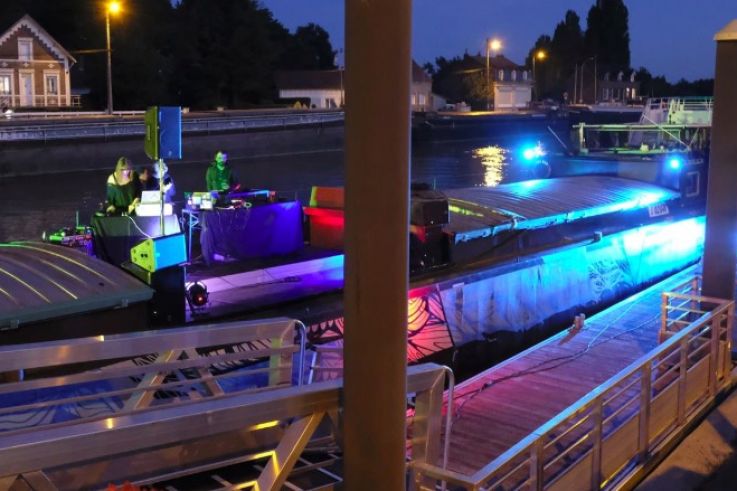 When & where?
Sunday 16 October // 11:00—14:00
La Maison des Arts — 147 chaussée de Haecht · 1030 Schaerbeek
What's on the programme?
Come over for a chill Sunday at La Maison des Arts, where Ohme curates a disco dancefloor for kids while the Estaminet treats you with its brunch! Check out the beautiful exhibition Couleur/Lumière, and come down to the basement where a specially coloured disco for kids will make your happy feet move at the rhythm of Ohme's house music selection for young dancers. Book your brunch time slot and enjoy the cosy atmosphere without missing the beats!
Age: 8+
Colour disco : free // brunch: 5€ children & 10€ adults
Brunch booking via email at info@estaminet1030.be
When & where?
Sunday 16 October // 15:00—20:00
Bidules — Rue Ravenstein 44  · 1000 Bruxelles
What's on the programme?
On Sunday 16 October, Dis Mon Nom invests Bidules for an hybrid event that will make you dance and warm you up! Athéna Sorgelikis, Drag Couenne and Cléo Victoire — three creatures belonging to the Brussels nightlife and residents of Cabaret Mademoiselle — will be putting on a drag show followed by a live performance by Clara!, a Spanish singer and dj based in Brussels. Attached to the desconstruction of genres and the reversal of domination within music and nightlife, our guests advocate a powerful and empowering sisterhood. Using lipsync and reggaeton beats, they will take you on a fiery afternoon.
When & where?
Sunday 16 October // 18:00—19:00
Pilar — Boulevard de la Plaine 2  · 1050 Ixelles
What's on the programme?
Ever wondered how electronic music is made? How does sound work, and where do the beats come from? Then join us for a journey into the world of electronic music to discover the secrets of sound synthesis! Created by the brilliant Boris Wilmot & François Gaspard and produced by Ohme, Sine is a participatory lecture/performance that illustrates, from the point of view of the physicist and the musician, the way in which electronic music producers approach sound and compose music. On the occasion of Nuits Sonores & European Lab Brussels 2022, the new shiny version of Sine will première at Pilar, taking over the Pilar Box with a participative set-up that will tickle your creativity. What to expect: learn about kicks, snares, filters, sines and waves, take part in the show and create your track together!