European Media Lab
Thursday 13 October
10:00 - 18:00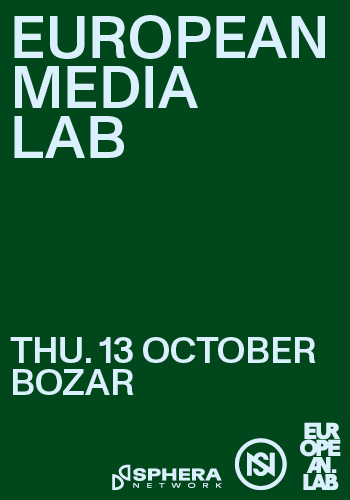 As part of a renewed will to explore the evolution of independent media in Europe, part of European Lab Brussels turns into European Media Lab in 2022, with the support of Sphera Network.
In collaboration with Bozar Writers & Thinkers, European Media Lab gives a voice to a new generation of actors who are shaping up new narratives, formats and models in the European media landscape, in a context of rapid change, between strong concentration of the sector, threats to freedom of expression and press pluralism.
Supported by Nuits sonores & European Lab Brussels and Sphera Network, European Media Lab is a platform for media players in Europe, starting with Sphera Network, a network of 10 media players from Madrid to Athens, via Budapest and Brussels. For one day, sector professionals and other personalities concerned with the challenges of independent journalism in Europe will meet at Bozar to open up perspectives on the new trends at work within the European independent media sector, both on the economic and editorial levels.
European Media Lab will combine different formats to allow professionals to exchange and get inspired, including workshops, keynotes, round tables and meetings. About 30 speakers from the European independent media ecosystem will be attending this new event, which is open to all those interested in the evolution of a sector undergoing rapid change.
Independent newsrooms and new media from all over Europe will also be represented during the day, including the Sphera Network partners: El Salto (Spain), VD News (Italy), StreetPress (France), Cafébabel (France), 444 (Hungary), Popaganda (Greece), Krytyka Polityczna (Poland), Bulle Media (Belgium) and Dinamo (Italy).